Live Chat

Chat with our software and accounting experts online. (Or leave a message and we'll contact you.)
---
Email Support

Email support@responsive.co.nz. We guarantee a response within 24 hours. Normally you'll hear back from us personally within a few hours (if not a few minutes!)
---
Telephone Support

If you're a registered user of LedgerLite or LedgerPlus please email support@responsive.co.nz with your telephone number and we'll give you a call.
---
Remote Support

We can connect to your computer remotely to assist you with any multi-user setup, database recovery or accounting questions you may have regarding the use of our software.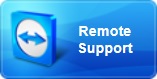 Remote Support

To connect remotely we charge a minimal fee of US$35 payable in advance. (On receipt of your payment we'll contact you to arrange a mutually convenient time.)
---
General IT Support

If reliability is important to you we recommend Sabre IT for any other computer or network related issues you may have.
---
Donations